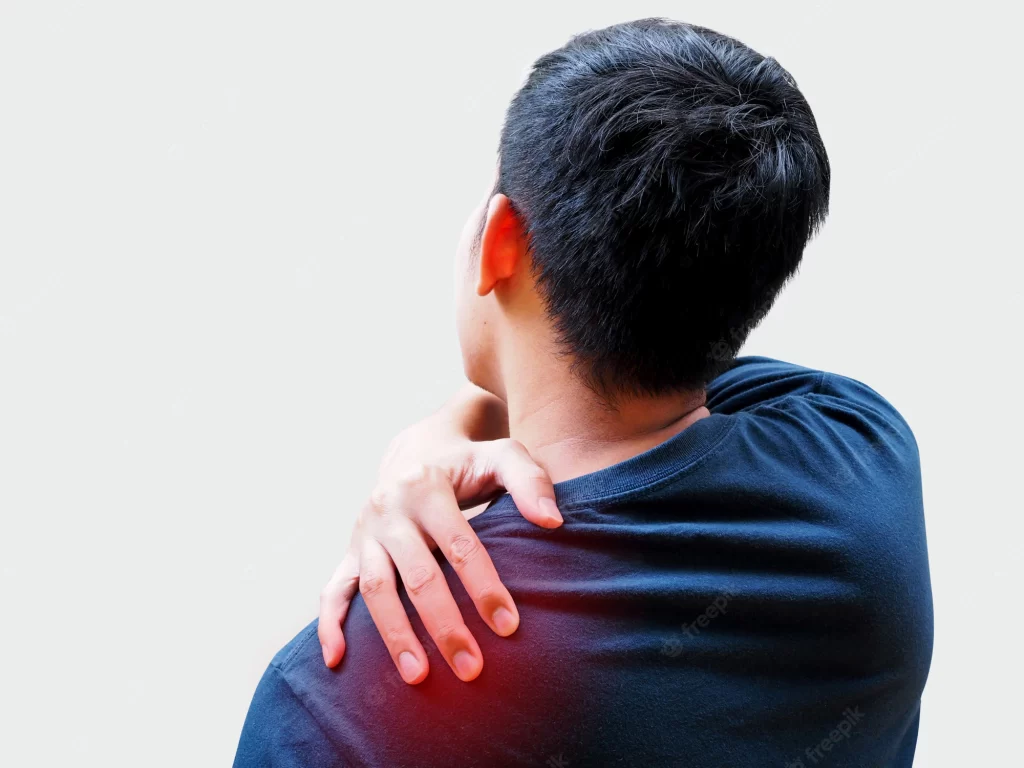 Got Frozen Shoulder?
Life put on pause because of a frozen shoulder?
Frozen shoulder, also known as adhesive capsulitis, is a condition that causes your shoulder to become stiff and unable to move. This results in pain, weakness and limited range of motion. This might be something you've never heard of before, but frozen shoulder is surprisingly common. It can happen to people of any age group, although it's more likely for those above 40 years old.
There are many possible reasons for the development of this condition, such as injury from repetitive movements (for example, computer work), previous surgery on the arm or an acute infection. No matter how it happened, there some things you can do while your waiting to meet with our doctors. Speaking of which, click here to schedule an appointment.
Move as much as you can. If you're experiencing pain, then the best thing you can do is start moving your shoulder as much as you can. Movement, especially with resistance, can help improve the condition. This can be done by gentle exercises that use both arms. That being said, don't push yourself too hard or do anything that causes more pain than you can handle.
Don't forget about stretching. If you have limited range of motion in your shoulder, try doing some gentle stretches every day. Hold each stretch for 15 to 30 seconds, and repeat 2 to 3 times. Some good stretches to do are the cross-body stretch, the wall lunge stretch and the seated forward stretch. Be sure to warm up your muscles before doing any stretches to prevent injury.
Try heat and massage therapy. There are many therapeutic modalities that can be helpful to ease the pain of frozen shoulder. One of them is heat therapy. Applying heat to the affected areas can help with pain and stiffness, and even encourage your muscles to relax. When applying heat, don't use it at the same time as ice. Choose either one or the other – not both at the same time. You can use a hot water bottle, heating pad, electric blanket or a microwaveable pillow/cushion. You can also incorporate massage therapy into your daily routine. Massage can help ease muscle tension and pain, as well as stimulate blood flow and increase joint mobility. You can incorporate massage into your daily routine.
Use a sling or brace. A sling or brace can be helpful to temporarily immobilize your shoulder. This can help when you are experiencing pain, swelling and limited range of motion. A sling is a garment that is wrapped around your arm and shoulder to support your joint and promote healing. A sling is often used when the shoulder joint is in a lot of pain, can't move because it's too swollen or has been immobilized by surgery. Depending on your situation, a sling can be worn over-the-head or under-the-arm. A brace, on the other hand, is a garment that provides support or compression to an injured area. A support brace is often used to immobilize or support an injured joint. A compression brace is used to support and compress an injured limb. Depending on your situation, a brace can be worn on the upper or lower part of your arm.
Frozen shoulder is a painful condition that can really throw your daily life out of sync. Luckily, our experts here at National Vascular Physicians offer several ways to deal with frozen shoulder, such as Adhesive Capsulitis Embolization. Book a time to come see us, and in the meantime, don't forget to stretch, look into heat and massage therapy, and use a sling or brace to ease discomfort.